This is another program I made for fun to play with Sudoku puzzles. Eventually I found a couple of logic rules to solve sudoku puzzles and how to express them programmatically.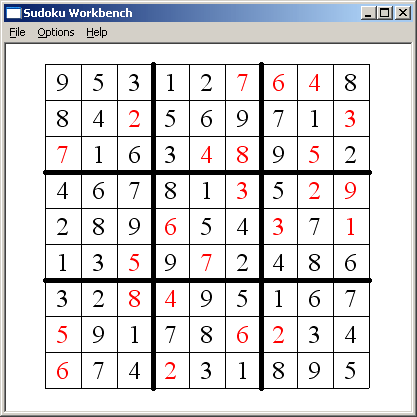 Current Features
Puzzle solver: A proper Sudoku has only one solution. My solver only solves one-solution sudokus.
Displaying of all candidates for each unknown cell.
Load, save and edit sudokus.
Download
Download Sudoku Workbench here (only 56KB!).
Download sudoku puzzles here. You can load them into Sudoku Workbench, try to resolve them by your own, or let the solver do the work.
Changes
2007.07.10 – Added application icon. This one's terrible, any suggestions?
2007.07.10 – First version uploaded.
Links
TODO List
Implement a sudoku generator.
Allow step by step resolution (and or explanation).